RENOVATION OF 12 SCHOOLS IN THE REGION OF GABES
In June 2016, the Hédi Bouchamaoui Foundation signed an agreement with the Ministry of Education establishing partnership for the implementation of an educational and cultural project which aims to upgrade the quality level of education.
The project aims to minimize the drop-out rates through maintenance and enhancement of some schools. It also works on providing other various schools with equipment and materials, as well as supporting clubs activities.
The HEDI BOUCHAMAOUI Foundation chose to focus on the renovation of primary schools in Gabes governorate. The signing of the convention was preceded by the selection of the 12 priority schools, with close collaboration with the Regional Delegation of Education in Gabes. Classrooms, health infrastructure and the general environment of the school were the priority, to ensure the optimal climate for education.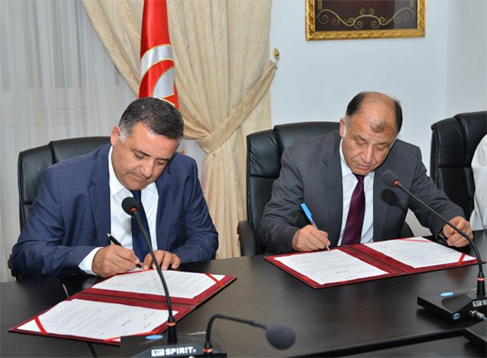 Sponsorship of Language Clubs
The Hedi Bouchamaoui Foundation sponsored the English club of Bouchama high school. This action aims to reinforce linguistic achievements, modernize pedagogical tools and open up didactic activities such as theater, the acquisition of debating skills and many others. This experience will extend to other high schools.
Backpacks For All
The Hedi Bouchamaoui Foundation delivered  school bags with supplies in several schools in the governorate of Gabes, at the start of the school year 2016/2017, through its operation « Backpacks For All » . The Foundation wishes to renew this action, which is part of a solidarity and development activity in order to offer better access to education.